Reminder of jan 2019
A song I heard when visiting this place:
---
Some Ramen place in gothenburg
I passed by a Ramen restaurant recently
It was japanese style, so I had a japanese beer...
And some spicy noodles...
My friend brought some muchrooms he picked, for me to investigate...we also passed by a beer place...just for fun...
I also went to 
---
Horchata and stump castle builtment
I did some more horchata recently...
...had a griny feel... and some flavour of rice...
I might make some at christmas instead of porrage...
i also found an old stump, with a door that I found...(i build it some 10 years ago)...
I also continued on my previus stump building...lets see how it ends...
---
Summer mushroom picking
I went to the forest to pick mushrooms recently...
event if its summer time...it was a chance/risk...
Many mushrooms
also some that I usually pick in the autumn
a cep
and lingon berries (cow berries)
I found alot of cep
they said its a mushroom year...this year...lets see...
i also found some red toxic ones...
usually the summer ones (cep), there are alot of worms inside...
Me and my taiwanese friend did some checking...and sorting...
and mainly the ceps were infected...
oliver did some frying
served in a sandwich...
I also made a pizza...
since I hae wild basil and oregano....
I hope they will survive the winter out here...
Peaceful time at the lake...
---
Gothenburg Oktober fest (in August)
I met up with some old classmate and friends in gothenburg recently
Saamet who I met in taiwan etc
We visited the Oktober fest at Heden
Many people were there...even if it was only on a thursday...
I tried 2 kinds of beer...
...wearing my lläderhausen etc that I bougt in Munich...
A quick selfie, that weposted on Saamets facebook wall (which he thought he closed) :)
It was partly raining outside..but stoped when we were about to leave...
I also found out that a guy at cykelköket who i often recognized and talked to...was from alingsås...interesting...
---
Disapointing logic
I passed by Göteborgs Garnison recently...it says that they are open "07.15-09.00 and 09.30-11.00
Once I arrived in the morning they were closed, with the motivation that "one has to come there to find if they are open or not, they will not announce it online"....
I took their number, but still sounds like a high risk ever going there...since they spontaneously can close...lets see how this goes...
---
Incompetent police
I was stopped recently to cycle on a street...by a police car, saying that it was 1 way traffic...
The police ignored this sign...I had to teach them...
---
Apple juice and rainbow
I made apple juice recently...
Its not an apple year this year...
But got from people...its nice...
I also passed by another hamburger bar...
And saw a rainbow in Gothenburg...
Alot of bikes parked everywhere...
I passed by another burger bar with Oliver...
He has been here many times...the burgers were pretty small...seems like french fries needs extra pay...I also tried an international beer...
The potatoes were interesting cut...
---
A fish soup in the archipelago
I had a fish soup in the archipelago recently
Cheese sandwich included...
Some alergic people got hemburgers...but I got fish soup...
---
Met up with Oliver and chill with Philip
I met up with Oliver recently
He just came from taiwan
I also had a beer with Philip
He insistedon having a hamburger...
---
Globetrotter prefers Bhutan
A swedish guy visited 195 countries.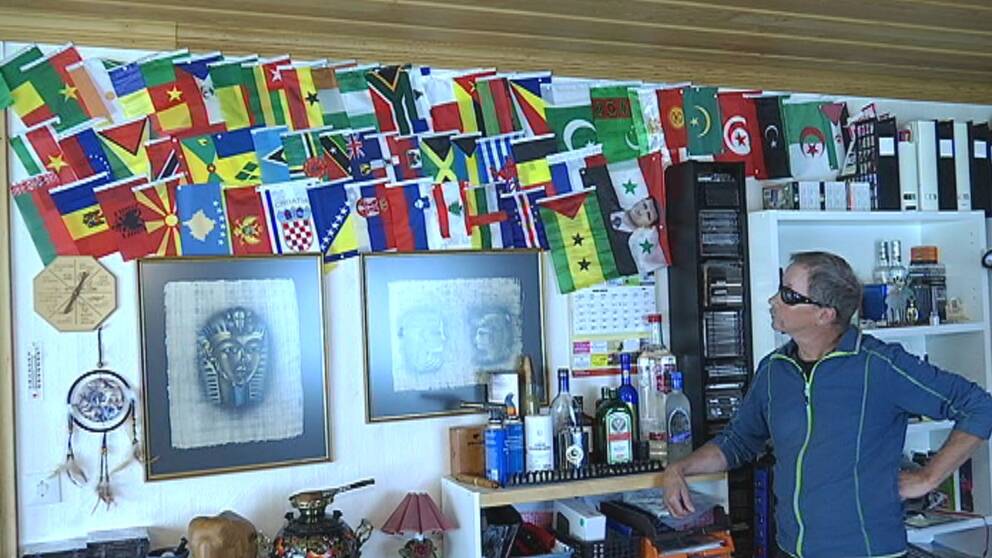 He liked Bhutan the most
Interesting
(Africa the least)
---
Song of the day
Cycling alot today
Song of the day:
---
Some middle eastern events
I got some Salep by a friend recently...
I love it...now I just need to learn how to make Horchata...which also has some rice porridge characteristics...
I also met up with Anders...and checked up some west coast events...
Later I donated some stuff to cykelköket and met up with Eberth...who is planning a USA visit...i tried some local beer...which i ranked on my new app...
I also tried tihs american beer...
And had a sip of this metallica beer...
Many brats visited a bar near vasaparken...
...including the swedish celebrity Ingvar Oldsberg...
Karl wanted to eat later...but far away...he told me it was a short distance, and i challanged him to get there on the time he announced to me...
they had Ayran...very good...
...all the running made karl lose his appetite...useless...i had some snack, some i saved for later...
...2019 continues...
---
A visit at Hjällnäs
I made a quick visit at Hjällnäs recently...
And had some noce food...including baked potato...
And some Barbera grape wine...it tated similar to Cabernet savingon...
This one was more tasty...
I also got introduced to some good Bourgonge wine...I will check among my wines which ones are exclusive...also the bordeaux, I will investigate their quality...
---
Horla Triathlon support 2019
I visited Horla som time ago...
They had a triathlon...
I joined up as a supporter...and tried some ale...
...some runners...
I also brought alot of meat...
...and some haloumi...
And some gothenburg beer...
I also started some stump art...since i got some right tools...
---